Magnetic Crack Detector Machine for Steel Bars
This Magnetic Crack Detector is a wet horizontal bench-type unidirectional machine that generates circular magnetization meant for checking both bright & black rolled steel round bars. Circular magnetization is achieved by clamping the bar directly between the headstock & tailstock and passing current through it. The machine is capable of detecting longitudinal cracks only. The headshot current can be switched between HWDC & AC for the detection of subsurface & surface cracks. The machine is semi-automatic in operation. All operations, such as loading, spraying, magnetization, demagnetization & unloading, are automatic. The only manual operation is the inspection. 
The Magnetic Crack Detector machine has nylon rollers for placing & rotating the bar on the machine during the inspection.
Adjustable magnetization time of up to 2.0 seconds allows for the complete development of indications.
Available in various part lengths & diameter ranges.
The Magnetic Crack Detector machine is provided with a dark room frame, hood & curtains so that inspection with fluorescent inks can also be carried out.
Product BENEFITS & APPLICATIONS
Fully Automatic operation

SCR-based digital current control for accuracy & precision

Feedback loop ensures repeatability 

Reverse agitation system keeps the powder always dissolved in the carrier fluid

Pneumatic clamping ensures no sparks

7-inch Touch Screen for operator comfort

PLC-controlled operation for faster & reliable testing

Low voltage output for operator safety

Operator controlled the Poka yoke for the demagnetization cycle
Bright Steel Bars

Black Steel Bars
Horizontal Clamping Models
| | | | | | |
| --- | --- | --- | --- | --- | --- |
| Model | Head Shot Capacity | Maximum Bar Length | Minimum Bar Length | Maximum Bar Diameter | Minimum Bar Diameter |
| MK-40-400-BRT | 4000A AC & HWDC | 4m | 2m | 75mm | 16mm |
| MK-50-600-BRT | 5000A AC & HWDC | 6m | 2m | 90mm | 25mm |
| MK-60-C-800-BRT | 6000A AC & HWDC | 8m | 2.5m | 120mm | 50mm |
| MK-80-C-1000-BRT | 8000A AC & HWDC | 10m | 3m | 160mm | 75mm |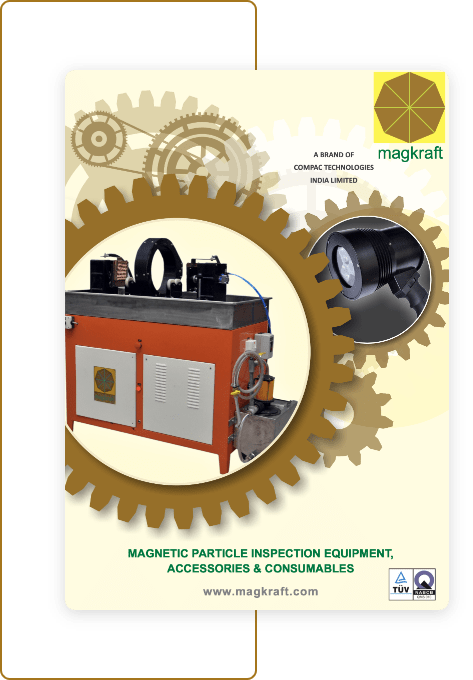 DIVE DEEPER: GET YOUR HANDS ON OUR PRODUCT BROCHURE!
Explore More, Discover Better!
In-Depth Details

Product Insights

Expert Recommendations
Download our corporate brochure
Introduction to Magnetic Particle Inspection (MPI) stands as a non-destructive technique employed to detectsurface & sub surface defects in ferrous components. This method proves to be both swift and comparatively straightforward in its application, with less...
read more