Mobile Current Generators

Mobile Power Packs: Electromagnetic Current Generators for AC or HWDC Magnetization.
Our mobile current generators are suited for testing large and very heavy parts using the magnetic particle inspection method. Suitable for parts that can't be loaded on a stationery-type machine. These units feature AC and Half Wave DC output.
Magnetization time of up to 3.0 seconds allows for the complete development of indications.
Available in various amperages.
A pair of direct contact prods is provided along with the machine. One of the prods has a switch for starting the magnetization cycle.
Product BENEFITS & APPLICATIONS
SCR-based digital current control for accuracy & precision

Feedback loop ensures repeatability 

Large easy digital readout for reading from a distance

AC to HWDC changeover uses solid-state circuitry, hence no changeover sound

Low voltage output for operator safety
Large Castings
Steel Industry
On Site Inspections
Turbines
Marine
Aerospace
Horizontal Clamping Models
Model
Current Capacity
Cables Included

MK-20-MP

2000A AC & HWDC

120mm

2

—3m X2

MK-30-MP

3000A AC & HWDC

120mm

2

—5m X2

MK-40-MP

4000A AC & HWDC

120mm

2

—5m X2

MK-50-MP

5000A AC & HWDC

120mm

2

—5m X4

MK-60-MP

6000A AC & HWDC

120mm

2

—5m X4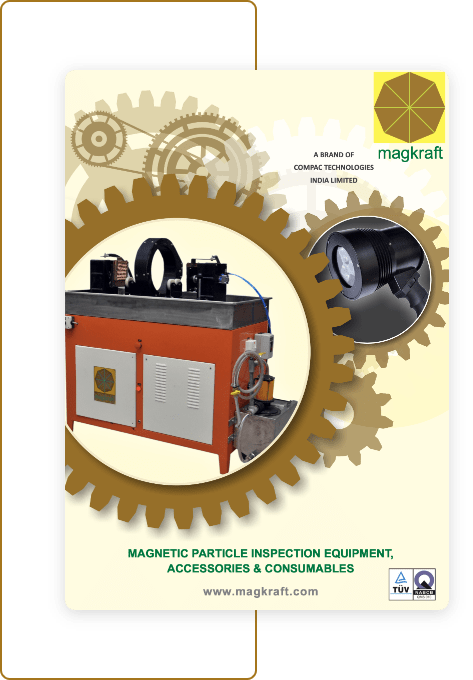 DIVE DEEPER: GET YOUR HANDS ON OUR PRODUCT BROCHURE!
Explore More, Discover Better!
In-Depth Details

Product Insights

Expert Recommendations
Download our corporate brochure
Introduction to Magnetic Particle Inspection (MPI) stands as a non-destructive technique employed to detectsurface & sub surface defects in ferrous components. This method proves to be both swift and comparatively straightforward in its application, with less...
read more